the most
INSANELY
awesome
45 minute ULTIMATE workout in OC (and perhaps the world).
THE WORKOUT
OC FIT was created for one reason, to help OC residents just like you get FIT, LEAN and HEALTHY… And have a TON of ENERGY too! In other words, to get you "OC FIT."
The OC FIT workout is the most effective program on the planet for people with busy lives because our sessions combine weight training, cardio and core all in one amazing 45 minute workout – In fact, we do SO MUCH in 45 minutes that it would take a regular person nearly 2.5 hours to even come close.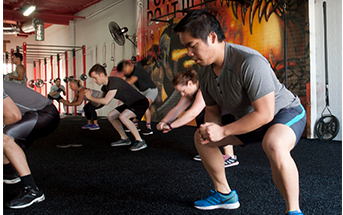 At OC FIT we are constantly changing our formats, movements and equipment so you will never get bored or used to the workout – In other words, EXPECT THE UNEXPECTED.
Our workouts are designed to take the fittest person to the next level, or build the foundation for a beginner. No matter who you are, YOU can become your best self here.
THE EQUIPMENT
The most insanely awesome 45 minute ultimate workout in OC wouldn't be complete without the best equipment.
We build your body into a strong, lean cardio machine with squat racks, Olympic bars, battle ropes, suspension trainers, adjustable benches, kettle bells, sleds, bands, slam balls, sliders and more – Oh and a heaping ton of awesome energy!
In other words, OC FIT facilities are fully loaded with an abundance of the most modern and innovative equipment for getting your body to the next level… and the next one… And the next.
THE COACHES & STAFF
Our EXPERT trainers are PASSIONATE, MOTIVATING and CARING. They know when to PUSH, and when to tone it down… And above all, they are 100% there for YOU.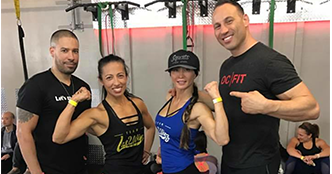 Our coaches LOVE WHAT THEY DO, and you can FEEL IT.
Our FULL TIME front desk staff are there to HELP you from beginning to end, and everything in between. They are extremely caring, helpful and friendly, and will make you feel like you're at your second home.
THE FACILITIES
When you arrive you'll notice that our facilities are CLEAN and WELCOMING, with a fun, and positive atmosphere – A lot of our members say it feels like a "family" here.
With a MODERN and INNOVATIVE look and an energizing feel, it's no wonder people say they get completely addicted.
With 5 Orange County locations, multiple morning and evening sessions 6 days a week plus showers, yoga and kid's club, now it's possible for you to fit a little "me time" into your busy schedule and take your body to the NEXT LEVEL.

THE PEOPLE
Our members are positive, helpful and do not judge.
We love watching so many of our members develop friendships that extend outside of boot camp.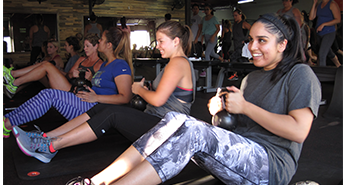 It really does feel like a happy healthy family here, so if you're looking for a boot camp you can call home, you've finally found it.
TRY US OUT FOR 2 WEEKS FREE!

A $98 VALUE! Take Your Body To The NEXT LEVEL… Starting NOW!

FREE Fat Loss Nutrition Plan
FREE Fat Loss & Workout Tips
FREE unlimited MOTIVATION

* Valid only for new customers and those who have not visited an OC|FIT facility within the past 6 months. Not valid at the OC|FIT Sky Park and Hale Ave locations if you were previously a member or used a promotion in the past, regardless of time lapse; first time guests only at these two locations.